Protectimus is a leading provider of two-factor authentication (2FA) solutions and makes it easy to secure your business and personal accounts with strong authentication. But how can you save money on Protectimus 2FA services and tokens? In this article, we will explore MFA prices and show you different ways to save money on Protectimus 2FA services and tokens including using free two factor authentication plans, coupons, bulk discounts, referral programs, and annual subscriptions. We will also explain the pricing structure for each of these options so that you can make an informed decision when purchasing 2FA or MFA products from Protectimus.
Understanding Protectimus MFA Prices
Protectimus is a cloud-based Multi-Factor Authentication (MFA) platform that helps businesses protect their customer data and accounts with two-factor authentication. It offers a range of pricing plans to meet the needs of different organizations. The pricing for Protectimus MFA rates is based on the number of users, the type of authentication, and the number of transactions. The cost for each plan depends on these parameters and is calculated on a per user basis. This makes it easy to manage costs as your business grows or changes over time. Furthermore, Protectimus also offers discounts for larger volumes, allowing customers to save money when they need more than one authentication solution.
MFA Prices for Cloud 2FA Service and On-Prem 2FA Platform
Protectimus offers a range of pricing options for its 2FA Cloud Service and On-premise MFA Platform, allowing customers to choose the plan that best suits their needs and budget. The Protectimus pricing structure is designed to be flexible and transparent, with no hidden fees or up-front costs.
Customers can enjoy all features even with the free plan, which supports up to 10 users, with all features enabled.
For larger organizations, there are several paid plans available, each offering a different level of support and functionality.
The Starter plan costs US$33 per month and includes support for one resource and up to 23 users.
With the Business plan, priced at US$111 per month, customers can access additional features such as two resources, two filters, one additional administrator, and support for up to 77 users.
Protectimus offers a Custom plan starting from US$2 per month, per user for organizations with more complex needs. This plan allows customers to connect any number of users, resources, administrators, and filters, with access to all of Protectimus's features. The cost of the service depends on the number of users connected, with all additional features enabled by the customer charged separately.
For those who need an on-premise solution, Protectimus offers an On-Prem MFA Platform that can be purchased for a minimum price of US$199 for up to 99 users, with lifetime licenses also available.

Overall, Protectimus's pricing structure is competitive, with a cost of support for a single user starting at around US$1.5 per month. Customers pay only for what they need, with no up-front costs, paid consultations, or authentication server maintenance costs (if they don't need the on-premise platform). The cost per user is significantly lower than that offered by competitors, making Protectimus an affordable and reliable MFA solution.
To learn more about Protectimus's pricing options and features, visit their pricing page.
OTP Token Price Guide
Protectimus provides a range of hardware OTP tokens, which includes Protectimus Slim NFC, Protectimus Flex, Protectimus Two, and Protectimus Shark. The token price varies depending on the quantity ordered, and larger orders get discounted per-unit prices.
Along with hardware TOTP tokens, Protectimus also offers free two-factor authentication methods such as the Protectimus Smart OTP 2FA app, which provides cloud backup and OTP password delivery via messaging apps.
For those looking to buy hardware tokens, the website features a token price guide that outlines the cost of each token based on the quantity purchased.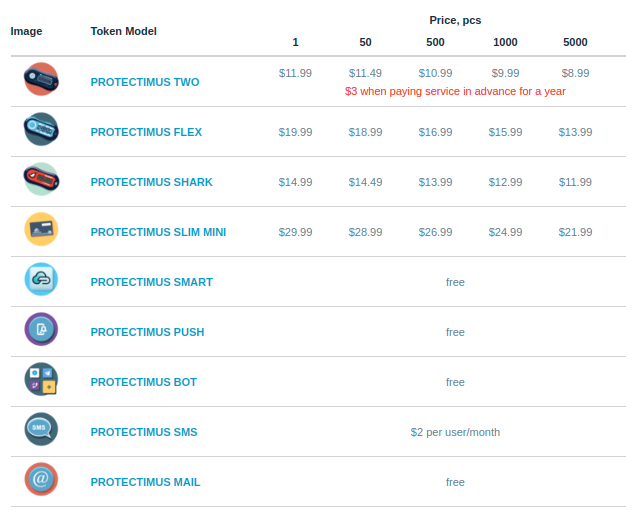 How to Save on Protectimus MFA Prices
At Protectimus, we understand the importance of providing affordable and reliable multi-factor authentication (MFA) solutions to our customers. That's why we offer several ways to save money on our MFA services and tokens, including coupons, bulk discounts, referral programs, and annual subscriptions. In this section, we will explore these different options and show you how you can take advantage of them to save on Protectimus MFA prices.
Free Two-Factor Authentication Solutions and Tokens
Protectimus offers free two-factor authentication solutions and tokens, making it an excellent choice for small businesses or those looking to secure a few accounts without worrying about the cost.
The Protectimus Cloud Strong Authentication Solution is free for up to 10 users, allowing you to access all the features of the Protectimus Cloud Two-Factor Authentication Service without paying any MFA rates. However, it's essential to note that additional resources, filters, administrators, SMS, and hardware tokens must be paid for separately. Get registered and start using Protectimus two-factor authentication service for free here.

In addition to free software solutions, Protectimus also provides several free OTP delivery methods: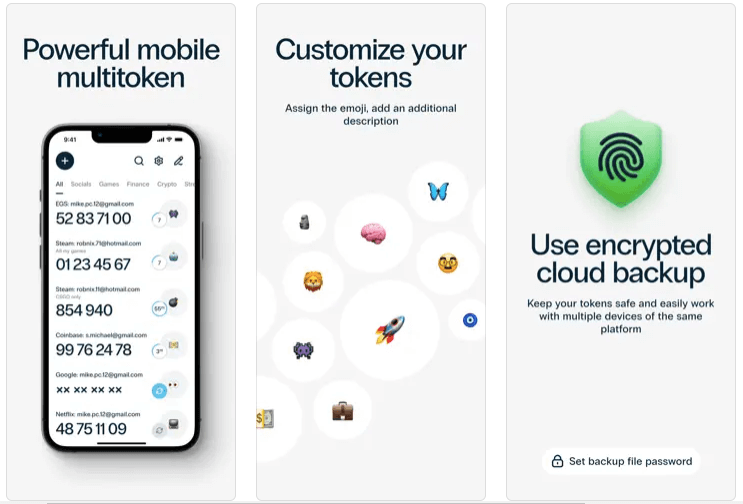 Coupons to Reduce the Cost of Two-Factor Authentication
If you're looking to save even more on Protectimus MFA prices, be sure to keep an eye out for the coupons that we offer. These coupons can be found on wethrift.com, various partner websites, and on social media channels. Using these coupons, you can enjoy additional discounts on Protectimus' already competitive MFA rates.
When you're ready to use your coupon, simply enter the code in the corresponding field during checkout, or message the support team to apply the discount. Don't miss out on this opportunity to save on multi-factor authentication solutions with Protectimus.

Bulk Discounts for 2FA Pricing
Our bulk discount pricing options offer volume discounts for businesses and organizations seeking to secure multiple accounts or devices with our MFA solutions.
The more OTP tokens you purchase, the lower the price per token becomes. This is especially beneficial for larger companies or those with a high number of accounts to secure.
For our Cloud Two-Factor Authentication Service and On-Premise 2FA Platform, Protectimus pricing starts at just $2 per user per month and the price per user decreases as the number of users protected by Protectimus 2FA grows, making our solutions even more cost-effective over time.
Our sales team is always available to provide custom quotes that are tailored to fit your needs and budget, so you can feel confident that you're getting the best deal possible.
It's also worth noting that our bulk discounts aren't limited to our own website. Partner websites such as otp2.org offer additional discounts, such as a $17 discount on a pack of three different TOTP tokens and a 50% express delivery discount. Protectimus TOTP tokens are also available in batches of 100 pieces on otp2.org with significant discounts.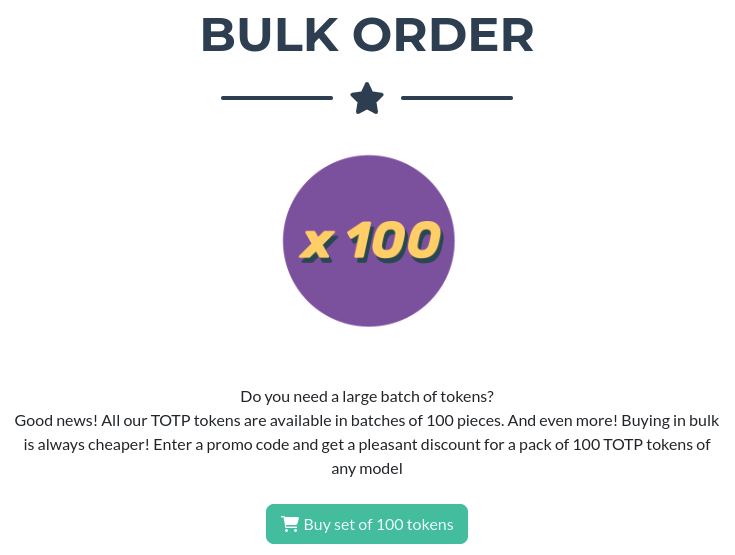 To learn more about our pricing options and find the plan that works best for your organization's needs, visit our website or contact our sales team today. We strive to offer flexible pricing options and excellent value for money, so you can enjoy the benefits of enhanced security without breaking the bank.
Referral Programs to Save on Protectimus MFA Services and Tokens
Earn money by promoting Protectimus services and platforms through the Protectimus Partners program. When a new client registers and confirms that you recommended Protectimus MFA, you can receive:
20% of their payments for Protectimus services;
10% of their payments for hardware OTP tokens.
You can choose to receive your earnings as cash or transfer them to any Protectimus account, and if you opt for the latter, Protectimus will add an extra 25% of the total amount to your account.
If you're already a Protectimus client, you can also participate in the client affiliate program by displaying Protectimus banners on your website. Simply by having a visitor click on the banner and register for Protectimus services within a week, you can receive 3% of their payments for one year.
You can register as a Protectimus Partner and get a referral link here.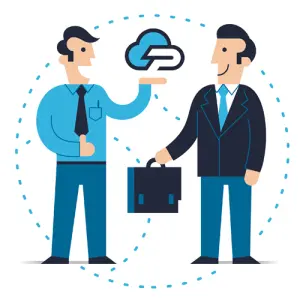 Annual Subscriptions
With Protectimus annual subscription model, you can save significantly on multi-factor authentication costs.
When you choose to pay for a year of service in advance, you can purchase our Protectimus TWO TOTP (RFC 6238) tokens for only $3 per piece. This competitive pricing means that you can secure your accounts without breaking the bank.
But the benefits of our annual subscriptions don't end there. Our sales team is always available to work with you and provide custom quotes and additional discounts that fit your specific needs. We understand that every business is unique, and we are committed to helping you find the right solution for your budget.
Conclusion
So, if you're wondering "does 2FA cost money?" or "how much does multi-factor authentication cost?" – the answer is that it depends on the provider.
Protectimus is a reliable and affordable MFA solution that provides various pricing options for its customers. Customers can save money by using free two-factor authentication solutions and tokens or by taking advantage of coupons, bulk discounts, referral programs, and annual subscriptions.
Be sure to check our website and the websites of our partners for Protectimus discount codes and special pricing promotions to get the best deal possible on our multi-factor authentication solutions.
Read Also
Subscribe To Our Newsletter
Join our mailing list to receive the latest news and updates from our team.